EU Recruitment for UK Companies in 2021
Time: 09:15 - 13:00 BST (if you can't attend live, register to watch the recording)
Cost per attendee: £250 + VAT 
Platform: Zoom - An encrypted zoom platform with password access. Click here for further information and to test access 
New ways of working, along with a shrinking supply of labour, have created unprecedented problems for the UK hiring market. 90% of employers are planning to hire at the fastest rate for eight years, but the labour pool is much diminished. The twin blows of Brexit and Covid have seen employers struggle to fill positions once held by EU workers. Hospitality and construction are currently struggling, but all businesses should be thinking about and planning for their upcoming recruitment challenges.
UK employers need to plan carefully and explore innovative new ways of identifying, recruiting and training potential EU and UK workers to ensure survival. This intensive half-day briefing will examine:
current and future recruitment trends and how best to prepare
How to ensure continued access to the best talent
innovative methods to attract low-paid workers and effective alternatives
The way in which the recruitment landscape will evolve and how to ensure you attract and retain the best talent
the new immigration landscape and how to ensure your recruitment is compliant
the latest practical solutions to finding, hiring and retaining staff in the new normal
what thought leaders and strategy experts are predicting and how UK employers should plan for the future
Please note: If you might like to endorse or sponsor the event, please see how to get involved here. 
Which functions will benefit from attending
HR and recruitment professionals, administration, training, security, risk, compliance, legal, policy, vetting and screening, operations and all line managers and directors and staff with responsibility for Right to Work checks and non- UK employee recruitment
Schedule
Chair's welcome
Elizabeth Smith
Director of Research , Business Forums International Ltd. (BFI)
Elizabeth is director of research and a founding co-director at Business Forums International. She is responsible for all programme content and writing, and researches current areas of interest for senior HR professionals in large organisations. BFI is the UK's leading HR risk specialist conference and training provider, delivering key and timely information to over 3,000 delegates a year both through public and in-house training courses. Before founding BFI in 1996, Elizabeth specialised in researching corporate financial programmes in Asia and the Middle East, based in Dubai. She also worked in advertising and publishing in the Middle East and London. Elizabeth was educated in the West Indies, Saudi Arabia and Belgium before reading Modern Languages at Durham University. She is currently developing an online training course for line managers to raise awareness of menopause symptoms and ways that employers can work to make their workplaces more inclusive.
Scope of the issue: labour shortage in the UK
UK challenges: geographical and sector-specific hiring challenges
UK as a job market: the view from overseas
Migration from hospitality to supermarkets: can it be reversed?
Essential messages to Government: what needs to change?
Alternatives to traditional hiring routes
Invited speaker:
Gerwyn Davies. Senior Labour Market Advisor, CIPD
Immigration changes and solutions: the new legal landscape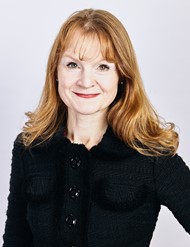 Sophie Barrett-Brown
Senior Partner and Head of UK Practice , Laura Devine Immigration
Sophie is Senior Partner and Head of UK Practice at Laura Devine Immigration. She is a band 1 ranked leading expert in UK immigration and nationality law, described as being "the best immigration lawyer in the country" and "a force to be reckoned with in the field"; "she sees the big picture and has a thorough and sound historic knowledge which is needed in a subject matter which is constantly changing". Sophie's clients are drawn from all sectors and range from multinational corporations to entrepreneurs, high net worth individuals and families. Sophie has extensive experience in all aspects of UK business immigration and nationality law and EU free movement. She is skilled in all Tiers of the points-based system (PBS), including sponsored migrants, entrepreneur and investor routes as well as discretionary applications. Sophie is also widely regarded for her policy work, regularly participating in policy consultations and working parties, including managing the company's numerous submissions to the Migration Advisory Committee's (MAC), Home Office and the Home Affairs Select Committee, to which she has provided evidence on a number of occasions. Sophie is a prolific speaker and commentator on immigration topics, presenting internationally and commenting in the general media. Commended for her "generosity in sharing her knowledge" for the benefit of the profession and immigration law practice in the UK, she is a Trustee and previous Chair of the Immigration Law Practitioners' Association (2007-2012), with which she continues to work extensively on various working groups and training. Sophie is currently a member of the Lexis PSL Editorial Consulting Board and The Law Society Brexit Migration Strategic Reference Group.
Updates to the immigration landscape
Recruiting and employing EU workers post-June 2021
Becoming a sponsor: requirements and implications
recruitment guidelines: avoid potential discrimination claims
Skills and other visa categories
PBS
What are the alternatives and what can we learn from other countries?
Murder or self-inflicted wounds? – thoughts from the hospitality industry
Quantifying the real problem: are we our own worst enemy?
Salaries, training and prospects: how can UK hospitality employers ensure they thrive?
Essential hiring and retention strategies: what messages must the industry send and what are the optimum channels?
Invited speakers:
Mark Selby, Chef Executive, Wahaca
Will Beckett co-founder Hawksmoor Group
Emma McClarkin, Chief Executive, British Beer & Pub Association
Michael Kill, Chief Executive, Night Time Industries Associations
Practical planning and strategy for UK employers
Employment changes: wages, training, flexibility, job security
Apprenticeships and work-based learning
Innovative working solutions
Recruitment dos and don'ts
Identifying and managing post-Covid safety concerns
Invited Speaker:
Tom Hadley, Business Coach & International Workforce Consultant
Hadleys Comment
Roundtable discussions
Delegates will choose to attend one of the following breakout groups to meet fellow professionals facing similar challenges. Guided by industry experts, attendees will discuss potential solutions to specific recruitment challenges and report findings back to the whole seminar.
Breakout group options:
Group A: Hospitality
Group B: Healthcare
Group C: Retail
Group D: STEM
Group E: Construction
Discussion group feedback
Panel debate: Challenges and solutions
The panel will look at the ways in which UK employers can tackle recruitment shortages, alongside some strong opinions and potential solutions to the challenge.
Invited speakers include:
Bola Abisogun OBE, Executive Director/Chairman, DiverseCity Surveyors
Gareth James, Operations Manager Central Division, Craft Union Pub Company
Karl Chessel, Director, CGA
Neil MacKinnon, Global Macro Strategist, VTB Capital
Pawel Adrjan, Head of European Research, Indeed
Clive Watson, Executive Chairman, City Pub Group
Kate Nicholls, Chief Executive, Hospitality UK
James Chaplin, CEO, Vacancysoft
Contact us to book or discuss our events & services

01983 861133


info@bfi.co.uk
"Difficult topic as so many unknowns, but all speakers contributed greatly to my knowledge" – Lloyd's Register

"Excellent one-day event, lots of valuable information and guidance" - Office of the Independent Adjudicator

"Crammed with useful and relevant information and guidance" – University of Kent